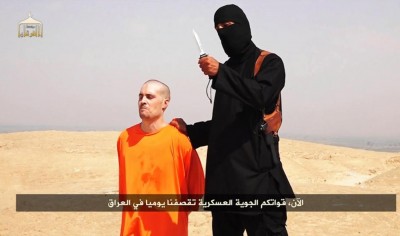 ISIS claims that it beheaded Christian journalist James Wright Foley
The militant Islamic group ISIS released a videotape of its beheading of American photojournalist, James Wright Foley. Efforts are continuing to independently confirm the authenticity of the videotaped event. This morning the FBI said that at this time they believe the video uploaded to Youtube is authentic.
James was taken captive in Syria in 2012 at Thanksgiving. In the videotape the ISIS militant crowed, "We will drown all of you in blood."
Grabbing another captured U.S. journalist, Steven Sotloff, 31, of Miami, a contributor for Time magazine, the killer stared into the camera and vowed in what sounded like a British accent, "The life of this American citizen, Obama, depends on your next decision." Austin Tice, from Houston, Texas, is another Catholic freelance journalist who is being held captive after being seized by an unknown group in Syria.
Dedicated to his craft and, like most in his profession, extraordinarily fearless, James had also spent time as a captive in Libya during the recent civil war there. In Syria he was working as a freelance journalist for the U.S.-based news service GlobalPost.
A devout Catholic, he wrote about his experience with prayer as a hostage of the Libyans:
"I began to pray the rosary. It was what my mother and grandmother would have prayed. I said 10 Hail Marys between each Our Father. It took a long time, almost an hour to count 100 Hail Marys off on my knuckles. And it helped to keep my mind focused.
"Clare [American journalist Clare Gillis] and I prayed together out loud. It felt energizing to speak our weaknesses and hopes together, as if in a conversation with God, rather than silently and alone. …
"If nothing else, prayer was the glue that enabled my freedom, an inner freedom first and later the miracle of being released during a war in which the regime had no real incentive to free us. It didn't make sense, but faith did."
To read more of his 2011 open letter to his alma mater, Marquette University, about his time in captivity in Libya, go here:
http://www.marquette.edu/magazine/recent.php?subaction=showfull&id=1318951203&archive
I cannot bring myself to witness his execution but to learn and know that so large a soul, or any soul, can be snuffed out with so little regard for his life, dignity, and beauty reveals, yet again, the darkness of this new tyranny. This is not a religious movement but a heartless fascism.
It's also clear from his words to the Marquette community that any statement he made before his execution is a farce.
His memory in Christ is eternal, and The Lord will raise him.
Rest in peace, James Wright Foley (1973-2014)
This article is an updated Facebook article by Kenneth Tanner, pastor of Holy Redeemer in Rochester Hills, Michigan and journalist.
One response to "ISIS claims that it beheaded Christian journalist James Wright Foley"