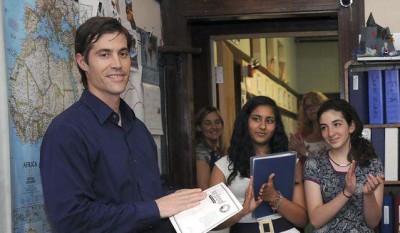 NY Times faces heat for claiming that James Foley converted while in ISIS captivity
Adapted & updated from Bobby Ross, Jr., GetReligion.
GetReligion is calling for a formal correction to be issued by The New York Times of its report on the conversion of Catholic James Foley to Islam before his beheading by the Islamic State.
The newspaper's public editor, Margaret Sullivan, addressed the issue in her Sunday column. Her conclusion about the The Times' stories was: "It's impossible to know. Given that, the stories' pervasive tone of certainty — reporting, for example, that Mr. Foley was "captivated by Islam" — may have been unwarranted."
In November of 2012, Foley was kidnapped by ISIS while covering the Syrian War. Two years later, in August of 2014, ISIS beheaded the photojournalist and released a videotape of the execution. His was the first of five broadcasts released by ISIS that year showing the beheading of Western journalists and aid workers.
In October 2014, The New York Times claimed that Foley — an avowed Catholic — made a "sincere" conversion to Islam during his imprisonment.
The Times said that prisoners in ISIS prisons in Syria had been subjected to repeated waterboarding and beating, and that in the midst of this torture, "some, including Mr. Foley, sought comfort in the faith of their captors, embracing Islam and taking Muslim names."
In response, GetReligion asked the simple question, "Is it a fact?" Considering the coercive circumstances of his alleged conversion and Foley's own report that praying the rosary sustained him through a previous captivity, the Times' claim was unwarranted. Furthermore, if Foley really converted, why did ISIS kill him?
Gegrapha.com recounted Foley's experience with prayer as a hostage of the Libyans:
"I began to pray the rosary. It was what my mother and grandmother would have prayed. I said 10 Hail Marys between each Our Father. It took a long time, almost an hour to count 100 Hail Marys off on my knuckles. And it helped to keep my mind focused.
"Clare [American journalist Clare Gillis] and I prayed together out loud. It felt energizing to speak our weaknesses and hopes together, as if in a conversation with God, rather than silently and alone. …
"If nothing else, prayer was the glue that enabled my freedom, an inner freedom first and later the miracle of being released during a war in which the regime had no real incentive to free us. It didn't make sense, but faith did."
On February 21st, the Times produced an in-depth piece exploring Foley's faith. While restating that the captive had converted while in jail, the article questioned whether a conversion in captivity can be considered truly legitimate. Now, the Times is facing more heat for its handling of Foley's faith — this time from the victim's younger brother.
Michael Foley contends that original Times articles portrayed his brother inaccurately, and that the subsequent article did not correct the original mistakes.
The brother's investigation, which included speaking to former ISIS hostages, found that James, a devout Catholic, did not truly convert to become an enthusiastic adherent of Islam but acted under pressure from his captors. Also, he found out that contrary to the Times report, his brother had been waterboarded only once and not singled out for excessive abuse. The brother concludes, Those things that The Times reported aren't true, he said, and The Times should correct the record.
Michael Foley is right: It's past time for the Times to issue a formal correction on its original report.
For more on this story see the GetReligion.org story.