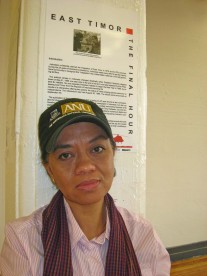 "I am not afraid."
I went early to church on Sunday morning because a journalist friend from Europe said he wanted to introduce me to someone. I struggled to get up (and was late to church) and dashed out to Brooklyn.
We met up at the Dumbo Art Festival on the 10th floor of one those industrial buildings spruced up as higher rent art buildings.
I discovered several religious sites on the way. A Tibetan Buddhist temple, Dorje Ling Buddhist Center, is on Gold and Front Streets. Going up to the third floor, I passed an art studio with a poster entitled "Face Faith," a shamanistic exhibit by a Hungarian artist and a search for meaning by a Polish artist. On the tenth floor one guy had painted himself with a crown of thorns but he barked at me to shut up when asked about religion. I wondered about his anger against religion since he used a lot of Biblical images with himself as the central figure. Was he just an old god bemoaning his loss of preeminence to Jesus? I didn't get a chance to ask as he told me I had to leave if I wanted to ask more about religion. He was one of those tolerant Richard Dawkins' types.
At the end of the hall I came upon C.M. Rien Kuntari, the journalist that I was supposed to meet. She was standing beside her book display from which I gathered that she was from Indonesia. I was surprised that she talked about her pilgrimage for God as a truth-telling journalist. Her pilgrimage landed her in New York City as a safe-haven from military assassins.
She didn't seem so tough or dangerous; she didn't bark at me as did the guy down the hall. She talked rather low, but intensely. I discovered that indeed I had come upon a religious site in Room 1014 of 20 Jay Street, just one of the many hallways that we have traveled down on our Journey through NYC religions.
Kuntari is one of number of immigrants who are refugees fleeing to the safety of New York City. Many of these refugees are fleeing religious persecution or punishment for practicing some aspect of their faith's values. Christian refugees have come to New York City to escaped forced abortion in China.
Immigrants who are refugees are caught in a different dynamic social process from that of the normal immigrant Typically, they were violently abused and uprooted from their homeland and arrive in the U.S. with fragmented personalities and social networks. They may arrive with a tragic sense of loss and be highly traumatized. That was the case of Kuntari.
For a long time Kuntari didn't want to even get out of bed. She would just lay there. But some secular and Christian groups helped her to resume a normal life.
Rien was a noted war reporter for the mega-sized daily newspaper Kompas in Jakarta, Indonesia. She started with the first Iraq war in 1991, traveled through the Rwanda genocide as it was happening, and visited Iraq a couple of more times. She noted, "My faith was never affected by the situations. It only got stronger." She is Roman Catholic. She has reported in more than fifty countries.
"In Iraq I went as a young inexperience reporter. I feel God touched me in those assignments."
Her life today has been turned upside down from the fall-out of her coverage of a brutal civil war in Indonesia over an area called East Timor, now an independent country
called "Timor-Leste." It was a site of genocide, but we don't hear much about it anymore. However, in Indonesia the war is still a white hot topic, particularly among the military. Kuntari wrapped up her experiences into a memoir that she published in 2008. In it she names some officers responsible for atrocities.
From the day she started covering the civil war, death threats littered her life. One rebel held a gun to her head. Another warned her that there was a death order out for
Kuntari's memoir exposed the perpetrators of atrocities her and that her body would be terribly mutilated so she couldn't be identified. When Kuntari went to cover the war, she took a route that surprised both the Indonesian government and the rebels. "As an Indonesian, I was expected to have already taken a side…My decision to be professional, neutral, and impartial brought to me a death threat" she wrote in the online site The Media Project.
With her memoir the danger of assassination escalated. She was fired from her job and the military said that they could not protect her. One night she came back to her home to smell a strong ordor of kerosene—a warning of things to come. She went into hiding and arrived in New York City on July 4th, 2009. She celebrated that she had told the truth and that God had brought her to safety. For her New York City was the promised land of the Exodus.
She wrote, "I am not afraid. God never leaves us alone. And it is true God sends lots of angels as soon as I arrived at the United States…In New York God sent his angels…I am really blessed."
[Adapted from Tony Carnes, "Photo Series: Compassion for the Immigrants in Queens and Manhattan,"  A Journey through NYC religions]